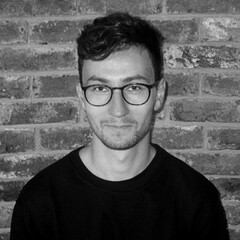 Jan Hřebíček
Senior Matte Painter at Wētā FX
Wellington, New Zealand
Summary
Studied photographer, self-taught 3D artist born in Czech republic, currently based in Wellington.
I've been passionate about visual art since childhood. I got into photography and studied at prof. Miroslav Vojtechovsky's atelier at FUD UJEP. At this time I started to experiment with post-production and play around with first CG renders for student competitions and personal series. After finishing school I worked on commercials mainly for automotive industry as well as art prints and posters. Couple years later I was busy making animated cartoons and a feature movie at Prague PFX Studio. Since moving to the UK in 2017, I've been involved with VFX houses Dneg, ILM and most recently Wētā.
I am hard working, passionate and continuously striving to improve my skills.
Skills
3D Modeling
Digital Sculpting
Lighting
Texturing
Look Development
Environment Modeling
Grooming
Software proficiency
Productions
Movie

The Flash

Year

2023

Role

Senior Matte Painter

Company

Wētā FX

TV Production

Andor

Year

2022

Role

Generalist TD

Company

Industrial Light & Magic

TV Production

WandaVision

Year

2021

Role

Generalist TD

Company

Industrial Light & Magic

TV Production

The Stand

Year

2020

Role

Generalist & Lighting TD

Company

Industrial Light & Magic

TV Production

Brave New World

Year

2020

Role

Generalist & Lighting TD

Company

Industrial Light & Magic

TV Production

The Mandalorian

Year

2019

Role

Lighting TD

Company

Industrial Light & Magic

TV Production

Chernobyl

Year

2019

Role

Generalist TD

Company

Dneg

TV Production

Doctor Who 11

Year

2019

Role

Generalist TD

Company

Dneg

TV Production

Curfew

Year

2019

Role

Generalist TD

Company

Dneg

TV Production

Altered Carbon

Year

2018

Role

Generalist TD

Company

Dneg

Movie

LORO 1&2

Year

2018

Role

Generalist TD

Company

Dneg
Experience
Senior Matte Painter at Wētā FX

Wellington, New Zealand

- unannounced film - matte painter

- unannounced film - matte painter

- Guardians of the Galaxy Vol. 3 - matte painter

- The Flash - matte painter

- She-Hulk: Attorney at Law: Episode 1, 8 - matte painter

Generalist TD at Industrial Light & Magic

London, United Kingdom

- Star Wars: Andor - generalist

- WandaVision: Episode 8 - generalist

- The Stand: 4 episodes - generalist, lighting

- Brave New World: 7 episodes - generalist and lighting

- The Mandalorian: Episodes 2, 8 - lighting

Generalist TD at Dneg

London, United Kingdom

September 2017 - July 2019

- The Dark Crystal: Age of Resistance - Episodes: 01,08,09,10 - assets, generalist, lighting

- Chernobyl: Eisodes 01,02,03,04,05 - generalist, lighting

- Curfew: Episode 2 - assets

- Doctor Who 11: Eisodes 01,02,03,04,05,08,11 - generalist, lighting

- Altered Carbon: Episode 10 - assets, lighting

- LORO: assets, lighting


Lead Lighting Artist at ProgressiveFX

Prague, Czech Republic

January 2016 - August 2017

- Harvie and the Magic Museum: lighting, lookdev, hair simulation

- Booba Cartoon: feather grooming, lookdev

- TV Commercials: Wide range of commercial assignments reaching from automotive lighting (Jeep, Fiat, Chrysler) to packshots (Mattoni, Telecom) and even some character work and grooming.

Lighting / Shading Artist at Automobilist

Prague, Czech Republic

July 2005 - December 2015

Hard surface modeling, shading and lighting of historic automobiles and aircrafts.

3D Generalist at Playground

Prague, Czech Republic

July 2014 - December 2015

Generalist 3D commercial print work mainly for automotive industry (Škoda).

3D Generalist at Striker Pictures

Prague, Czech Republic